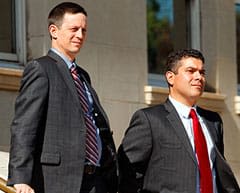 Almost any individual facing a divorce will likely go through financial and emotional turmoil throughout the process. If you are considering divorce or have received divorce papers from your spouse, it is crucial that you act quickly to protect your interests. An uninformed decision can make a bad situation worse, both immediately and when your case goes to trial.
At LunaLaw, LLC, our attorneys have handled hundreds of divorce cases on Colorado's Western Slope and are prepared to provide dedicated representation in a range of family law matters. No matter the complexity of your situation, we will prepare your case so that your side of the story can be effectively and efficiently argued in court. Clients appreciate — and judges and fellow attorneys recognize — our thorough preparation, our careful investigation of all factors in a divorce case, and our extensive knowledge of related law.
Is Your Marriage Coming To an End?
Through friends, advertising or movies, people have likely heard phrases like "divorce," "dissolution of marriage," "legal separation," "common-law marriage," "sole custody" and "uncontested divorce." Many of these terms have very specific meanings to judges and lawyers, and many people make mistakes by misusing these terms when they appear in court. Whatever the facts of your case may be, if you feel that your marriage is coming to an end, you should discuss the matter with an experienced lawyer.
We have an intricate knowledge of family law and will provide the representation you need. We can provide legal guidance in matters such as property division, child custody, parenting plans, child support, and spousal support. Our family law attorneys are prepared to help you.
Get The Legal Help You Need
If you have questions regarding divorce, schedule a consultation with an attorney at LunaLaw, LLC. We can be reached through our convenient online contact form. From our office in Delta, we serve clients throughout the Grand Junction area.
Servicios de traducciones disponibles.