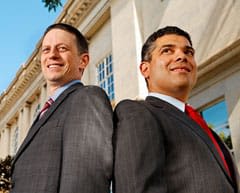 Property crimes often referred to as crimes against property, can be serious offenses in Colorado, with strict penalties upon conviction. If you or a loved one was arrested in connection with a property crime, we encourage you to schedule a consultation immediately.
The sooner a Delta property crimes defense attorney at LunaLaw, LLC, can begin investigating your charge, the sooner we can begin developing your defense. With more than 20 years of combined experience, our lawyers can provide an efficient, honest assessment of your case and offer valuable insight into the legal process. Firm founder Brandon Luna handled thousands of cases while working as a prosecutor. With his focus now on defense, attorney Luna can use his knowledge of the prosecution's tactics to benefit your strategy.
What Have You Been Charged With?
Whether a property crime is considered a misdemeanor or a felony, depends on several factors such as the value of the items involved and whether a deadly weapon was used. These factors will have a direct impact on the severity of the penalties you face. You need a defense attorney who can defend you against even the most serious charges. At LunaLaw, LLC, we are prepared to provide defense against a wide range of property crime charges, including:
Theft/shoplifting

Arson

Vandalism

Criminal mischief
While some offenses might seem minor, a conviction can make it challenging for you to secure housing, start a new job, or complete your education. You need an experienced criminal defense attorney to protect your freedom and your future.
Get A Strong Defense Attorney On Your Side
If you have questions regarding property crimes defense, schedule a consultation with an attorney at LunaLaw, LLC. We can be reached through our convenient online contact form.
Servicios de traducciones disponibles.