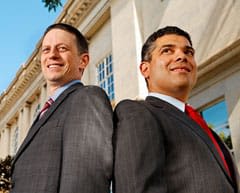 When a child's parents separate, child support and custody can quickly become the most disputed topics. In Colorado, like many states, child support is often determined by a child support calculator. This equation takes numerous factors into account to make a fair determination. A seemingly minor fact can significantly alter the amount of child support under the formula. In some circumstances, a court may deviate from the child support formula entirely. Before a court issues a child support order in your case, you should consult with an experienced attorney.
Our LunaLaw, LLC, attorneys comb through the facts of your case to ensure that the child support order in your case is fair both to you and to your children. Appearing in court on a family law case is always emotional for parents, and a small oversight can lead to years of too much or too little child support. You should have a skilled and knowledgeable attorney on your side to ensure that your interests are protected.
Which Factors Will Impact Your Situation?
In calculating child support, the biggest factors are the earnings (or earning potential) of both parents and who will have primary custody. Numerous other factors must also be addressed to ensure that the support payments are accurate, including:
Medical insurance premiums

Educational costs

Extracurricular activity costs

Special needs considerations
No matter the unique nature of your financial situation, we will fight to ensure that your voice is heard. We will thoroughly investigate each parent's finances to uncover hidden assets and to ensure that income is accurately reported. Trust us for diligent representation and aggressive advocacy concerning child support calculations and enforcement.
Contact Us
If you have questions regarding child support, schedule a consultation with an experienced lawyer at LunaLaw, LLC. We can be reached through our convenient online contact form. From our office in Delta, we help clients throughout the Grand Junction area.
Servicios de traducciones disponibles.