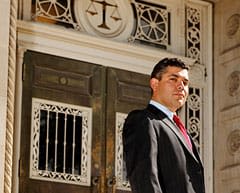 Even the accusation of a sex crime can have devastating, lifelong consequences. If you or a loved one was arrested or charged with a sex crime, schedule a consultation at LunaLaw, LLC, as soon as possible. While our firm does not represent clients charged with child sex crimes, we provide a strong defense against a wide range of other offenses.
At LunaLaw, LLC, our Delta sex offense lawyers understand the serious nature of these charges and the severe ramifications you might face. We will fight aggressively to protect your rights and your freedom. Whether we are challenging the police search, fighting to exclude evidence, or negotiating a reduced charge, you can count on our dedication and tenacity from start to finish.
What Are The Allegations Against You?
At LunaLaw, LLC, we are prepared to handle all types of misdemeanor and felony sex cases in Delta and communities throughout Colorado. Cases in this practice area can include:
Sexual assault

Rape

Date rape
Marital rape

Unlawful sexual contact

Indecent exposure
At LunaLaw, LLC, we understand that you are facing a challenging time in your life. We will handle your case with the professionalism and sensitivity it deserves. It is our goal to minimize your exposure to consequences such as jail time, community service, and inclusion on the sex offender registry. Let us fight on your behalf.
Take Action Today
If you have questions regarding sex crimes defense, schedule a consultation with an attorney at LunaLaw, LLC. We can be reached through our convenient online contact form.
Servicios de traducciones disponibles.