Criminal Defense Attorneys in Grand Junction, Colorado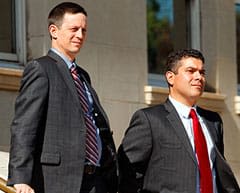 LunaLaw, LLC, will defend you and protect your rights up to and through trial if necessary. Your experience in the criminal justice system begins when you are arrested or issued a citation summoning you to court. It is important to get a lawyer as soon as possible to help you through the entire criminal justice process, including bond hearings, pretrial hearings, and to defend you at trial.
What Have You Been Charged With?
At LunaLaw, LLC, we handle any criminal charge, including:
Felony and misdemeanor traffic crimes or infractions: Including driving under restraint, driving after revocation prohibited, DUI/DWAI, vehicular eluding, vehicular assault and vehicular homicide
Drug offenses: Including illegal possession of prescription or illegal drugs, distribution or dealing prescription or illegal drugs, growing or manufacturing illegal drugs

Marijuana: LunaLaw, LLC, is your Western Slope expert in medicinal marijuana questions for both vendors and patients and any issues relating to improper growing, distribution, use, or possession of recreational marijuana.

Domestic violence crimes: Including assaults, property damage, stalking, protection order violations and harassment

Adult sexual crimes: Including incest, date rape, spousal rape, and indecent exposure

Sexual assault on a child: Including position of trust, the pattern of abuse and statutory rape

Assaults and menacing: Including both felonies and misdemeanors

Robbery and aggravated robbery

Burglary

Criminal mischief

Trespass: To businesses, homes or cars

Homicides: Including first-degree murder, second-degree murder, and manslaughter
We proudly serve clients throughout the Western Slope, including Delta, Montrose, Telluride, Rifle, and the greater Grand Junction, Colorado area.
White-collar crimes: embezzlement, hacking, and other computer crimes, defamation, libel, or slander.

Theft, fraud and identity theft

Forgery

Criminal impersonation and attempt to influence a public servant

Juvenile crimes

And many more
What am I facing when I am charged with a crime?
How We Can Help You Push Back Against The Charges
For many years, Brandon Luna trained and advised police officers and cadets on criminal procedure. They are warned that failure to follow his advice and training could lead to evidence being suppressed. This means it could not be used against you.
If you hire LunaLaw, LLC, to defend you, you are hiring an attorney who can identify even the smallest mistake the police made when they investigated your case. Once these mistakes are identified, LunaLaw, LLC, will put together and file motions telling the court how your legal rights were violated by the mistakes made by the police. If the court agrees that these mistakes violated your rights, we can limit the evidence that will be used against you and strengthen our ability to defend your case.
Get a Skilled Defense Attorney On Your Side
At LunaLaw, LLC, in Delta, we understand the dread that accompanies being criminally accused. The very issuance of a charge, let alone the court process, is emotionally overwhelming. From the moment you are accused, to the moment case concludes, LunaLaw, LLC, will be your advocate and ally, carefully explaining each step of the process.
If you live on the Western Slope of Colorado, including the areas of Grand Junction, Telluride, Rifle, Montrose, and Delta, and need determined, comprehensive criminal defense representation, please contact us today.